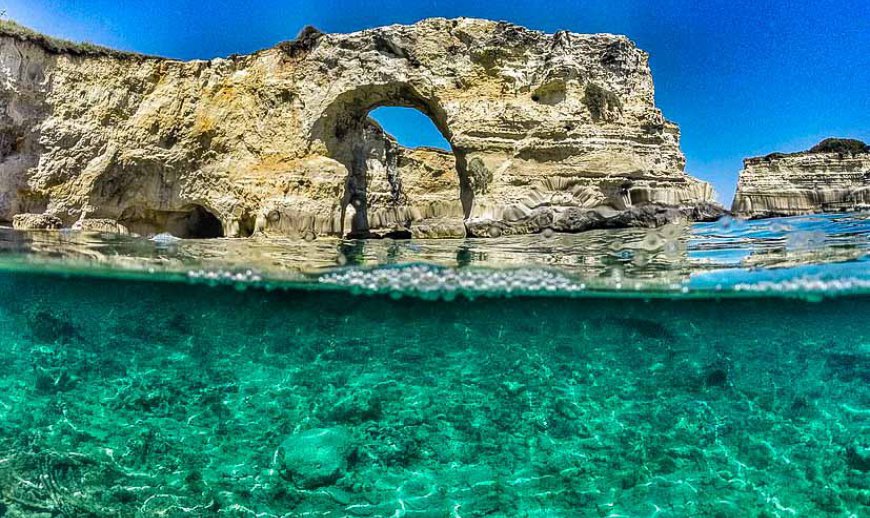 A boarder land embraced by two seas, with miles of coastline and where white sandy beaches give way to secret coves and cliffs.
The Ionian coast, from Marina di Pulsano down to Santa Maria di Leuca, is a succession of golden sands and low rocks, marine protected areas and Aleppo pine forests, eclectic villas and restaurants on thewater. Whilst the Adriatic coastal road to Brindisi, passes through Otranto and offers breathtaking views, especially in springtimewhen anemones, poppies and wild orchids are in full bloom. There's ahidden Salento created by underground monuments, early Christianchurches, caves and underground presses. Then there's the visible Salento, distinguished by coastal towers and colombaie, dolmensand menhirs which makes this peninsular the largest megalithic garden in Europe. Immerse yourself between the atmospheres of the Oriental and the Middle Ages in the eleven towns of Grecìa Salentina. Then admire the cities of the so-called "minor Baroque", Nardò, Galatone, Galatina, where you can visit masterpieces such as the Basilica di Santa Caterina d'Alessandria.
Then straight to Lecce to discover the ineffable world of Baroque,with its cloisters, palaces, papier-mâché shops, the beautiful Santa Croce Basilica and Piazza Duomo.
If you like good wine, do not miss the journey around the lands of Negroamaro and Primitivo wine, especially Manduria. If you want to discover lesser known parts of Puglia go to Oria, dominated by the castle of Frederick II from the 13th century or Francavilla Fontana, full of old houses and medieval walls or Mesagne with the beautiful Chiesa Matrice and its imposing castle.
At sunset, go to Brindisi where you can enjoy a drink overlookingthe inner harbour, sitting at a table of one of the many cafes on the Regina Margherita waterfront. One of the largest natural harboursin the Mediterranean, where two thousand years ago it was themajor port for the Roman Empire and where the legendary company Valigie delle Indie sailed direct to Bombay in the nineteenth century.