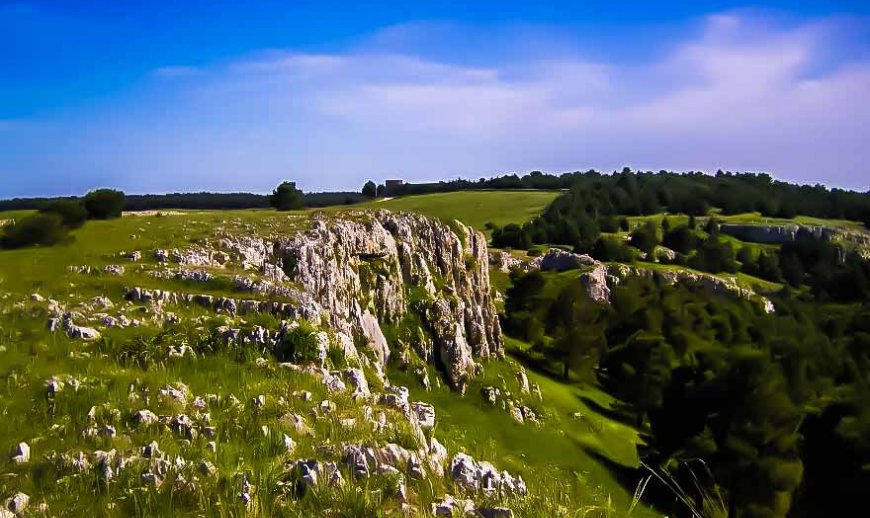 Here, the rock is the absolute highlight. Deep crevasses, underground ravines, natural caves, mid-air terraces and steep slopes.
An itinerary not only to discover the wonders of Puglia, where it is worth taking a detour in Basilicata to visit the enchanting Matera.
You will have the feeling of being in an American canyon while you find yourself in the Alta Murgia Barese and the Gravine tarantine. Gravina in Puglia overlooks a ravine and is home to the Alta Murgia National Park. Among the many churches made of rock, do not missthe one of San Michele. Altamura is famous for its "Dop" bread, unique in Europe and also famous for its Dinosaur Footprints in the Pontrelli quarry over three hundred thousand old. Also for the "Uomo di Altamura", the skeleton of a hominid who lived about 250 thousand years ago (between the Neanderthals and the Herectus). Then arrive in Cassano delle Murge, passing through the Forest of Mercadante. If you are fond of mozzarella and burrata cheese make a stop in Gioia del Colle.Santeramo in Colle is the realm of horsemeat and "ready made ovens" attached to butchers or delicatessens.
Further south in Parco delle Gravine, which surrounds the Gulf of Taranto, Laterza is 12 km long, the largest canyon in Europe and is known for its tradition of bread. Mottola deserves a visit for thecripta di San Nicola with its great fresco of the Last Judgement, whilst in Massafra you can take a tour of the churches made from rock of the 10th and 11th centuries. Stay in the countryside ofCrispiano, the town of a hundred farms and choose Castellaneta Marina, with its Aleppo pine forests, white beaches and crystal clear sea. Also if you love golf or want to get back into shape with thalassotherapy. Taranto, the ancient capital of the Greek Empire is only 15 minutes away. A swing bridge divides the Old town fromthe New Town, which lies on an island. One of the most important National Archaeological Museums in Italy is the MarTa museum. Here do not miss the outstanding collection of goldsmith's, "Ori di Taranto". After, you can reach Grottaglie where you can enjoy a walkin the ceramics quarter, famous throughout the world.